Dependable HVAC Services in Amarillo
Providing Quality Heating & Cooling Services In Amarillo Since 1978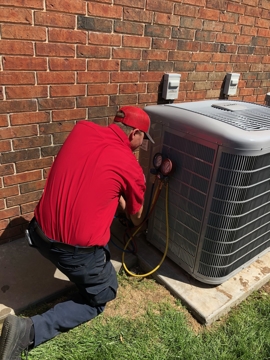 Gary's Heating and Air Conditioning, Inc. is a fully qualified AC repair service, heating repair service, and ductwork replacement company serving Amarillo, TX and the surrounding area. When we opened our doors in 1978, we made a commitment to deliver excellent service, quality products, and affordable pricing. We continue to focus on the needs of our residential customers, placing a high priority on providing 100% customer satisfaction. Our Amarillo HVAC repair and installation technicians have the skills and expertise you're looking for in a heating and cooling company.
Learn more about the heating and air services we offer on these pages:
AC Repair & Installation
When your air conditioner goes on the fritz on a hot summer day, Gary's Heating and Air Conditioning, Inc. is the company you can trust to deliver prompt, reliable AC repair service. Our NATE-certified technicians provide AC repair service for all major brands of cooling equipment and will make the repairs quickly and efficiently.
Installing an air conditioner is a job for a professional, and you won't find any better-qualified installation technicians than the ones at Gary's Heating and Air Conditioning, Inc. From calculating your energy demands to delivering a professional installation, you can count on us to keep you cool and comfortable.
Heating Repair & Installation
Temperatures frequently drop well below freezing in winter, making a good heating system a necessity in Amarillo. Whether you experience an unexpected breakdown of your heating system or simply need routine repairs on an aging furnace, you'll appreciate the outstanding heating repair service we offer at Gary's Heating and Air Conditioning, Inc.
The hallmarks of our heating repair service include:
Service vehicles stocked with parts
Technicians trained to repair all models of central heating units
When it's time to replace your heating system, our Comfort Advisors will analyze your needs and calculate which system best fits your requirements. Experienced, NATE-certified HVAC technicians install our heating units, so you can be confident they will be installed correctly.
Ductwork
Ductwork plays an essential role in home comfort because it's how heated and cooled air gets distributed throughout your home. Over time, metal duct work can rust and flexible duct work can tear.
Other potential issues include:
Rodents chewing holes
Dirt buildup
Damaged ductwork
These problems can also interfere with proper air flow. Ductwork replacement solves these problems and restores the efficiency of your heating and air conditioning unit. Our experienced Amarillo heating and air team will help you determine when it's more cost-effective to opt for duct work replacement rather than just sealing the leaks.
Mini-Splits
Through nearly four decades of experience, our Amarillo heating and air conditioning experts have developed strong relationships with respected manufacturers of mini-split systems, particularly Carrier®.
These relationships, combined with our highly trained installation and service experts, allow us to offer our customers solutions for ductless heating and air conditioning systems that are:
Streamlined
Energy efficient
Cost-effective
Choose Gary's Heating and Air Conditioning, Inc. for the Best HVAC Services
If you need a heating repair, ductwork replacement, or installation of a new air conditioning unit, look no further than Gary's Heating and Air Conditioning, Inc. With our experience, expertise and state-of-the-art equipment, our Amarillo heating and air technicians have all of the tools necessary to deliver first-rate service and customer satisfaction.
Call us at (806) 318-1337 today to learn more about our satisfaction-guaranteed Amarillo HVAC repair & installation services!