Air Conditioning Replacement in Amarillo
Air Conditioner Installation Near You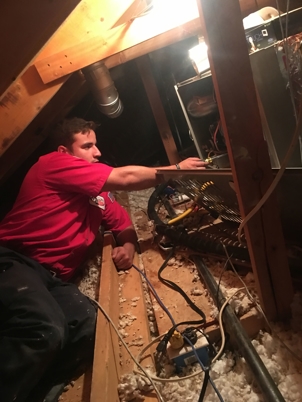 Since 1978, Gary's Heating and Air Conditioning, Inc. has been a trusted resource when Amarillo, TX, residents need a new AC system. As a Carrier® factory authorized dealer, we install high-quality Carrier® equipment for all of our new air conditioning installations and air conditioning replacements.
With Carrier®, you can be sure you are getting:
Energy-efficient products that protect the environment
Long-lasting and reliable equipment
The latest in innovative technology
---
Call Gary's Heating and Air Conditioning, Inc. today at (806) 318-1337 or contact us online to schedule AC replacement or installation in Amarillo!
---
Our Benefits & Guarantees
Along with installing first-rate Carrier® air conditioners, we offer additional benefits and guarantees to Amarillo residents looking for a new AC system:
Utility Savings Guarantee: You will save a minimum of 30% on your heating and cooling usage when you install a full system with ductwork and all recommendations, or we will refund double the difference of your saving not realized during the first two years. If your system is not meeting guaranteed savings, you must notify us immediately to allow us to evaluate your system's performance. (Platinum Plus, Platinum and Gold systems)
10 Year Parts and Labor Warranty: 10 Year Parts and Labor Warranty when you invest in a complete Platinum Plus System
5 Year Labor Warranty: 5 Year Labor Warranty when you invest in a complete system and maintain a Preferred Club Membership for those 5 Years.
2 Year Labor Warranty: when you invest in a Silver, Gold, or Platinum system.
1 Year Labor Warranty: when you invest in a Bronze System or single piece of equipment.
Ductwork: 10 Year Manufacturer's Guarantee for materials to the original owner. 10 year labor and workmanship guarantee to the original owner. This guarantee excludes abuse / misuse.
$200 Installation Date Guarantee: If we do not have your new complete system operating by the date promised, we will pay you $200 for your inconvenience.
$300 No-Frustration Guarantee: If your new (complete) system breaks down during the first year and it leaves you without heating or cooling for 24 hours, we will pay you $300 for your inconvenience.
Property Protection Guarantee: All property such as lawns, shrubbery, carpeting, floors, walls, furniture, and door frames are protected. Damaged property will be replaced or repaired. Protective floor savers and hall runners will be used on all work and traffic areas.
No Surprises: The investment quoted is what you pay.
Customer Respect: Our technicians will not swear or use tobacco products while on your property. They will courteously answer any questions or concerns and leave your home as neat as they found it. Additionally, we answer all questions so that customers can make decisions confidently.
Code Compliance: The installation will comply with all existing local codes.
Drug-Free: Your work will be performed by our professional, highly trained, and drug-free associates.
Satisfaction: We will guarantee that your system meets or exceeds your expectations for quality and reliability.
No Lemons Guarantee: If the compressor in your outdoor unit fails twice in the first five years due to manufacturer's workmanship or defects, we will install a new outside unit. If the heat exchanger in your furnace fails in the first 10 years due to manufacturer's workmanship or defects, we will install a new furnace. (Platinum Plus, Platinum, Gold Systems)
Apples to Apples Guarantee: This is our promise to you: That our VALUE is MORE than anyone else or we'll pay you a $250 bonus over the difference. All we ask is that the comparison is "apples to apples."
Determining the Right Size AC Unit for Your Home
A successful air conditioning installation begins with qualified technicians performing the work. Our NATE-certified technicians have the expertise, equipment, and experience to lead you through the whole process.
We will analyze factors such as:
The number of people in your home
Sun / shade conditions
Thermal tightness of the structure
Armed with this information, we can determine the size of the system that fits your needs. Our highly trained HVAC technicians will install your system according to building code and manufacturer guidelines, check to ensure it's working properly, and follow up a few days later to make sure you are 100% satisfied.
Types of Cooling Systems We Install
From calculating your energy usage to wearing floor savers that protect your home during installation, you can expect our technicians to go above and beyond to make sure we meet your needs, regardless of which type of cooling system we install.
Types of cooling systems include:
Central air
Mini-splits
And heat pumps
Mini-Split Air Conditioning Systems
If you want to add air conditioning to your home but don't have existing ductwork, don't despair! The ductless mini-split systems we offer are ideal for structures with limited space for ductwork, room additions, or converted living areas.
Long-lasting and whisper-quiet, our mini-splits carry high-efficiency ratings and are easy to install. Mini-splits also work well for unique cooling needs such as computer rooms and storage areas.
Signs You Need AC Replacement
Too often a failing air conditioner catches homeowners off guard. The last thing you want to do is suffer the Texas heat without a cooling unit. By being observant and listening to your AC (sometimes literally), you can have a warning when it's time to replace your air conditioner.
It's time to install a new AC if you notice the following:
Frequent repairs – Do you constantly find yourself having to fix your AC? All those repairs might indicate a failing unit. It's better to invest in a new AC than to continually throw money at a dying unit.
Age – The average air conditioner lasts for about 12 to 15 years. If properly maintained, it might last for a few more years. But if it's older than 15 years, it might be time to replace.
Higher electric bills – When an AC is failing, it will work harder to output the same results, thus using more energy. If you notice higher energy bills without changing your routine, it can indicate a serious issue with your HVAC system.
Decreased cooling – Is your AC unable to produce cold air like it used to? There could be an issue with the thermostat or refrigerant.
Strange noises – Do you hear strange rattling or screeching noises coming from your AC? There could be something wrong with motor, belt, or a loose part. This can all be cause to install a new air conditioner.
Working as a team, our Amarillo AC service technicians and installation specialists can evaluate your existing system, and provide a cost-benefit analysis that will help you create a plan for replacing your air conditioner. One thing is certain: It's much better to schedule your air conditioning replacement rather than have your unit suddenly stop working and discover it is beyond repair.
What Are the Benefits of AC Replacement?
Investing in AC replacement offers several benefits, including:
Improved Energy Efficiency: Newer AC units are designed with advanced technology that provides better energy efficiency, resulting in lower utility bills and reduced environmental impact.

Enhanced Comfort: A new AC unit can provide consistent and even cooling, eliminating hot spots and ensuring a more comfortable living or working environment.

Increased Reliability: AC replacement eliminates the need for frequent AC repairs and reduces the risk of unexpected breakdowns, providing peace of mind and uninterrupted comfort during the hot summer months in Amarillo, TX.

Better Indoor Air Quality: Newer AC units have improved filtration systems that help reduce indoor air pollutants, creating a healthier living or working environment for you and your loved ones.
If you're experiencing issues with your AC unit or it's showing signs of aging, AC replacement may be the best solution to ensure optimal performance, energy efficiency, and comfort. Reach out to Gary's Heating and Air Conditioning, Inc. to schedule your appointment today!
How Much Does a Carrier Air Conditioning Unit Cost?
The price of a Carrier air conditioning unit ranges from $4,892 - $7,224. Prices will vary depending on the square footage of your home. For instance, a home that is 600 to 1000 square feet will need a 1.5 ton Carrier AC unit.
A 1.5 ton unit costs $1,750 with an additional $3,142 in installation fees. Carrier unit size increases up to 5 tons and can cool over 3,000 square feet. To learn more about Carrier air conditioner installation, give us a call!
---
In need of AC replacement in Amarillo? Reach out to the professional teams at Gary's Heating and Air Conditioning, Inc. to schedule your appointment today! Call (806) 318-1337 to get started.
---
Straight Shootin' Service
Let Us Help You Find What You're Looking For