Air Filter and Air Purifier Services in Amarillo
Two Facets of Great Indoor Air Quality
Many people have never been taught the difference between air filters and air cleaners. The effectiveness of both are measured in MERV, which is a technical way of telling you the size of solid particulate will be captured. Air filters have a MERV rating of 1- 12, which means they will capture particulate from 1.0 -5.0 microns, which includes typical particulate such as most pollen, mold, spores, pet dander and air borne hair. Air filters will only capture about 10% of .3 micron particulate. While air cleaners, have a MERV ratings up to 17!! This means they will capture particulate all the way down to 0.007. Air cleaners will obviously capture the same type particulate as filters but they will also capture fungi, bacteria, viruses and the very smallest household dust. Another major factor is that air cleaners will capture 97% of particulate .3 microns.
Whether you are looking for an air filter or an air cleaner, our team at Gary's Heating and Air Conditioning, Inc. has you covered. We also provide expert ductwork service and will ensure your home receives the proper heating and air it needs. Our experienced team will even help you determine what type of system will work best for your home. From initial consultation to final handshake, our team of Amarillo air purifier services will go above and beyond you service expectations. Make sure you check out our 5-star reviews!
Call us today at (806) 318-1337 to schedule your indoor air quality service. We serve Amarillo, Canyon, Claude, Panhandle and surrounding areas.
Indoor Air Filter Installation, Repair & Maintenance
AIR RANGER
LOW PRESSURE 1" ELECTRONIC AIR CLEANER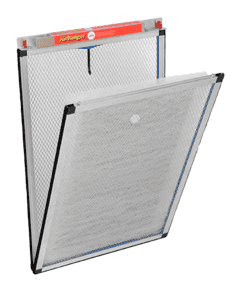 EFFICIENT
97% efficient at 0.3 microns.
Efficiency increases as the media fibers load.
REMOVES ODORS
Patented activated-carbon center screen with C3™ technology is effective in removing cigarette smoke, pollen, dust, odors, and other contaminants.
ECONOMICAL OPERATION
Low static pressure drop lets blower run efficiently.
Low power consumption.
WARRANTY
Backed by a Limited Lifetime Warranty.
EASY MAINTENANCE
No washing of components required.
The disposable fiber media pads require only a few minutes to change.
Media pads are generally changed every 3 to 4 months, depending on household conditions such as the presence of pets and/or smokers.
Having issues with seasonal allergies? Check out our blog post on how filters and air purifiers can help improve your indoor air quality during pollen season.
Straight Shootin' Service
Let Us Help You Find What You're Looking For