Total Home Solutions for Indoor Air Quality
Improving Indoor Air Quality
Here at Gary's Heating & Air Conditioning, we want to help you improve your indoor air quality. To do so, we offer several different products and technologies designed to target your most prevalent indoor air quality issues. Whether you suffer from airborne infection agents, high gas concentrations, or high concentrations of particles and allergens, we have the technology which helps you strain them out of your air or render them inert, preventing them from doing the harm they're capable of.
Indoor air contaminants
There are three main groups when it comes to contaminants in the air: infectious agents, chemical gasses, and particulate matter. All three phases of air contaminants are equally responsible for aggravating asthma and allergies. Learn more about these germs and gasses using the diagram below and solutions to get rid of these in your home.
AIR RANGER
LOW PRESSURE 1" ELECTRONIC AIR CLEANER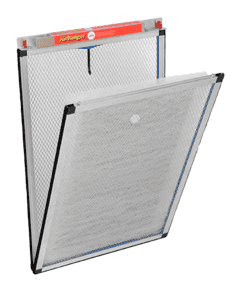 EFFICIENT
97% efficient at 0.3 microns.
Efficiency increases as the media fibers load.
REMOVES ODORS
Patented activated-carbon center screen with C3™ technology is effective in removing cigarette smoke, pollen, dust, odors, and other contaminants.
ECONOMICAL OPERATION
Low static pressure drop lets blower run efficiently.
Low power consumption.
WARRANTY
Backed by a Limited Lifetime Warranty.
EASY MAINTENANCE
No washing of components required.
The disposable fiber media pads require only a few minutes to change.
Media pads are generally changed every 3 to 4 months, depending on household conditions such as the presence of pets and/or smokers.
---
DRAIN PAN TREATMENT STRIPS
PROTECT YOUR COOLING SYSTEM
DYNAMIC TIME-RELEASE CONDENSATE DRAIN PAN TREATMENTS
Use state-of-the-art, water-activated, time-release polymer technology.
The product may be used safely in air-conditioner and refrigerator drain pans, dehumidifier water tanks, or any other non-potable water retention area.
The honeycombed solid package remains intact until it becomes activated by moisture… then it deactivates again, providing dependable, sustained time-release protection for just pennies a day.
The system contains a corrosion inhibitor and adds a light, pleasant scent to the air as it works.
Helps prevent overflows from clogged air-conditioner drain pans due to the formation of slime, which can cause expensive damage to ceilings and/or other property.
Contaminants found in drain pans can cause foul-smelling odors and air quality problems.
Retained water can cause corrosion and premature failure of metal drain pans.
---
BIOFORCE DEFENDER - PLATINUM
WHOLE-HOUSE AIR PURIFICATION SYSTEMS
UVC
Controls Bacteria, Viruses, and Mold Spores
High intensity Dual-Radiant UVC "H" lamp
Long Lasting Lamps
Up to 2 Year lamp life
WARRANTY
Limited Lifetime Warranty on all electronic components.
Lamp is warranted against defects for two (2) years.
---
BIOFORCE DEFENDER
UVC & ACTIVATED OXYGEN
Controls allergens that cause allergic and asthmatic episodes
Controls or destroys organisms such as mold spores, bacteria, and viruses
LONG LASTING LAMPS
One lamp controls bacteria, viruses, and mold spores while the second adjustable lamp oxidizes gases and removes odors.
Up to 2 years on replacement bulbs
WARRANTY
Limited Lifetime warranty on all electronic components
Lamp is warranted against defects for 2 years
---
Consequences of Poor Air Quality
Poor indoor air quality has a number of consequences. For one, air contaminants can have an impact on your health. Gases and odors can cause headaches, nausea, dizziness, and even lung problems or blurred vision. Germs can cause all sorts of problems including respiratory infections, ear and throat infections, or even pneumonia or sinusitis. Allergens can cause complications for everyone from seasonal allergy sufferers to those who have respiratory issues like asthma or emphysema.
Don't suffer with poor indoor air quality; contact Gary's Heating & Air Conditioning to learn more about bringing one of these high-quality indoor air quality improvement technologies into your home.